I was calculating a while with my figures, how to get a pretty good start
and since i don't own any level 6 i stumbled across an idea which includes my beloved Naz Rael.
My Team
Lvl 3 - Ini 9 - Anna Tommy
Lvl 2 - Ini 8 - Srammy
Lvl 1 - Ini 6 - Koa Gulia
Lvl 4 - Ini 6 - Mark Umber
Lvl 2 - Ini 3 - Naz Rael
With an overall initiative of 32 there is a decent chance to get first turn.
So as you can see in the embedded Picture
Anna takes 3 Karma, changing position with Srammy who then rushes to mid collecting 4 Karma
Koa collects the 3 Karma in the lower left corner
Mark Umber collects 1 and her sacrificiel walks between two others just to guard them.
Nazrael collects 2 and stands just in reach for Anna to port on turn 2 to get closer to the mid section.
This leaves me with 13 of 40 avaiable Karmas on the board
Anna can get to the action in round 2 or can port Mark Umber closer to mid
Srammy does whatever he does (Collecting Karma or pushing close enemies towards Mark Umber/Sacrificiel)
Koa can get Rewards for Mark Umber or collect another Karma
And Naz, well he can reach mid or collect or buy for next round.
Legend:
B: Baum/Tree/Arbre
Busch: Bush/Buisson
Kiste: Box/Boîte
D: Démon
K/KK: Karma
S: Start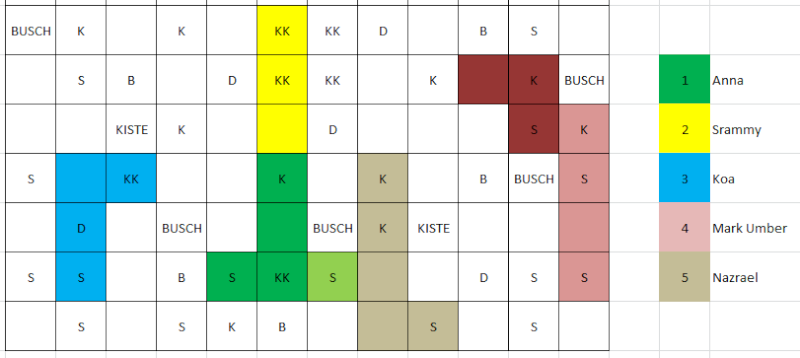 Summed up, this is quite a nice team without relying on lvl5/6 Krosmasters.
What do you think, any suggestions to round it up more?